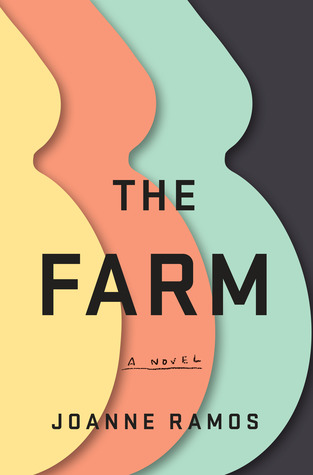 Title: The Farm
Author: Joanne Ramos
Publisher: Random House
Publication Date: May 7, 2019
Page Count: 336
My rating: 2 1/2 stars
About the book:
Nestled in New York's Hudson Valley is a luxury retreat boasting every amenity: organic meals, personal fitness trainers, daily massages—and all of it for free. In fact, you're paid big money to stay here—more than you've ever dreamed of. The catch? For nine months, you cannot leave the grounds, your movements are monitored, and you are cut off from your former life while you dedicate yourself to the task of producing the perfect baby. For someone else.
Jane, an immigrant from the Philippines, is in desperate search of a better future when she commits to being a "Host" at Golden Oaks—or the Farm, as residents call it. But now pregnant, fragile, consumed with worry for her family, Jane is determined to reconnect with her life outside. Yet she cannot leave the Farm or she will lose the life-changing fee she'll receive on the delivery of her child.
Gripping, provocative, heartbreaking, The Farm pushes to the extremes our thinking on motherhood, money, and merit and raises crucial questions about the trade-offs women will make to fortify their futures and the futures of those they love.
The Farm by Joanne Ramos is an adult science fiction, dystopian novel. The story within this one is told from multiple points of view throughout by giving a different voice for each chapter with Jane the central character to the story.
Jane is an immigrant from the Philippines who needs a way out and into a better life for herself and her own child. Jane learns of a retreat that takes in young women like herself to "hire" them to carry the babies of rich clients. For Jane this will mean leaving her daughter behind for the nine months.
I've seen The Farm by Joanne Ramos compared to a more modern day version of the Handmaid's Tale and I suppose I should have run away seeing that one is not a favorite of mine. While to me they aren't very similar they were alike in the fact I was not a big fan of this one either rating it at 2 1/2 stars. The biggest downside to me was way  too much telling and not showing which makes it crawl along but I didn't find the story overly compelling either, just not my cup of tea.
I received an advance copy from the publisher via NetGalley.
Find this book online: 
About the author:
Joanne Ramos was born in the Philippines and moved to Wisconsin when she was six. She graduated with a B.A. from Princeton University. After working in investment banking and private-equity investing for several years, she became a staff writer at The Economist. She currently serves on the board of The Moth. She lives in New York City with her husband and three children.
Instagram: @JoanneRamosTheFarm