Title: Wolfhunter River
Author: Rachel Caine
Publisher: Thomas & Mercer
 Publication Date: April 23, 2019
Page Count: 330
My rating: 4 stars
About the book:
A Wall Street Journal and USA Today bestseller.
She can't ignore a cry for help. But in this remote hunting town, it's open season.
Gwen Proctor escaped her serial-killer husband and saved her family. What she can't seem to outrun is his notoriety. Or the sick internet vigilantes still seeking to avenge his crimes. For Gwen, hiding isn't an option. Not when her only mission is to create a normal life for her kids.
But now, a threatened woman has reached out. Marlene Crockett, from the remote town of Wolfhunter, is panicked for herself and her daughter. When Gwen arrives in the small, isolated rural community, Marlene is already dead—her own daughter blamed for the murder. Except that's not the person Marlene feared at all. And Gwen isn't leaving until she finds out who that was.
But it may already be too late. A trap has been set. And it's poised to snap shut on everyone Gwen loves. Her stalkers are closing in. And in a town as dark as Wolfhunter, it's so easy for them to hide…
Wolfhunter River by Rachel Caine is the third installment of the thrilling Stillhouse Lake series. The first book in the series, Stillhouse Lake, introduced readers to Gwen Proctor who had gone into hiding with her two children after it was found that her husband was a serial killer. The trio had been on the run for several years not only trying to make sure that her husband who had gone to prison wouldn't know of their whereabouts but also the vigilantes that thought Gwen was an accomplice to the killings instead of an innocent housewife.
After years of being on the run and hiding Gwen and her children were tired of constantly being on the move and decide to  finally settle at a home at Stillhouse Lake. This series continues their story from book to book and is best read from the beginning to get the  full story on the dangers the family has faced and to get to know all the characters well. The second book, Killman Creek, picked up right where the story had left off and now Wolfhunter River has done the same.
I have followed this series from the  beginning and have absolutely loved it giving the first  two books five stars. I loved the way it digs deep into what happens to  the  family of a convicted killer bringing in the internet and media and their intrusion into their lives. The characters are likable, the story is one that has kept my attention and had me on the edge of my seat. The only reason I went with four stars this time is the story took a route I wasn't quite expecting and seemed to not take advantage of where  the second ended,  it was still good though just not the wow I expected.
I received an advance copy from the publisher via NetGalley.
Find this book online: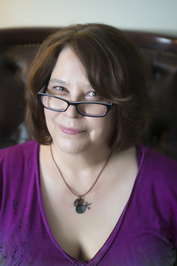 About the author:
Rachel Caine is the author of the New York Times, USA Today, Amazon Charts, and #1 Wall Street Journal bestselling Stillhouse Lake series. With more than fifty novels to her credit, Caine is also the author of the Morganville Vampires series and the Great Library series. She's written suspense, mystery, paranormal suspense, urban fantasy, science fiction, and paranormal young-adult fiction. Rachel lives and works in Fort Worth, Texas, with her husband, artist/actor/comic historian R. Cat Conrad, in a gently creepy house full of books. For more information, visit Rachel at http://www.rachelcaine.com.