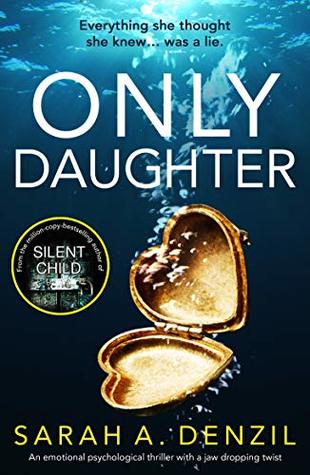 Title: Only Daughter
Author: Sarah A. Denzil
Publisher: Bookouture
Publication Date: March 13, 2019
Page Count: 330
My rating: 5 stars
About the book:
The must-read psychological thriller for 2019 from the million-copy-bestselling author of Silent Child.
In one moment, Kat Cavanagh's perfect world is shattered into tiny fragments. The flash of her daughter's torn yellow dress, the beautiful blonde hair hanging across her precious face. Her own heart-broken sob…
Kat experiences every mother's worst nightmare when her little girl is found dead. And then the police add the word 'suicide'. But Kat refuses to believe them. 
Even when they show her the familiar looping handwriting and smudged ink on the note Grace left behind. She knows her bubbly, bright daughter would never take her own life.
But as she searches Grace's perfume-scented room, filled with smiling photos, she uncovers secrets her daughter had been hiding. Secrets that make her wonder how well she really knew the woman her only child was becoming.
Kat's determined to find out what really happened to Grace on the night she died, even if it means confronting her own troubled past. But as she gets closer to the terrible truth, Kat is faced with an unthinkable question: there was no way she could have protected Grace – or was there?
This addictive and emotional psychological thriller will keep you gripped into the dark hours. Perfect for fans of Behind Closed Doors and The Girl on the Train.
Ok, color me surprised but I did NOT come close guessing the end of Only Daughter by Sarah A. Denzil. I will admit I began this one thinking OK, the writing may be good so far and  the story entertaining but I bet it's going to be  x did it and then I'll be annoyed….haha nope.
What the author has done in Only Daughter is take readers into the mind of a sociopath in the protagonist, Kat. Kat is the mother of Grace, a teenager who was just found at the bottom of the quarry known to be a spot for suicides with a note in her pocket.
Grace was the one  thing in Kat's life that she had ever truly loved and cared for and she is  determined no matter what the police or anyone else says that her daughter did not take her own life. As far as Kat is concerned there is a murderer on the loose and she will  find them.
Oh this one was a fun read, I instantly felt Kat's personality or perhaps I should say lack of a personality oozing off of each page. When danger comes along she stares it straight in  the eye and  doesn't back down in a way most could never do. There's suspicion and secrets all  throughout  to keep the pages turning quickly until that final twist that I dare readers to try to guess.
I received an advance copy from the publisher via NetGalley.
Find this book online: 
About the author:
Sarah A. Denzil is a British suspense writer from Derbyshire. Her books include SILENT CHILD, which has topped the kindle charts in the UK and Australia, as well as being a top ten Amazon bestseller in the US. SAVING APRIL and THE BROKEN ONES are both top thirty bestsellers in the US and UK Amazon charts.
Sarah lives in Yorkshire with her partner, enjoying the scenic countryside and rather unpredictable weather. She loves to write moody, psychological books about ordinary people in extraordinary situations.
Find out more at: http://www.sarahdenzil.com/
Join the newsletter for updates: http://eepurl.com/cwAmZD
Follow her on Facebook: https://www.facebook.com/sarahadenzil
Email: sarah@sarahdenzil.com
Writing as Sarah Dalton – http://www.sarahdaltonbooks.com/