Naughty but Nice (Hamilton Christmas #3) by Donna Kauffman @donnakauffman @KensingtonBooks #bookreview #contemporary #romance #holiday
Title: Naughty but Nice
Author: Donna Kauffman
Publisher: Zebra
Publication Date: October 30, 2018
Page Count: 102
My rating: 4 stars
About the book:
Tis the season for sweet surprises . . .
  Businessman Griffin's never believed in luck . . . until sassy-sweet small-town baker Melody turns his world around. Except there's a catch: There's no way he'll be able to build his empire and hold on to her. This new love could destroy all his dreams—or make this Christmas better than he ever imagined possible . . .
Naughty but Nice by Donna Kauffman is the third novella length contemporary romance in the Hamilton Christmas series. This story was originally published in the The Naughty List anthology but is being republished as part of it's own Christmas collection. Each book in the series can be read as standalone stories with each featuring a different set of main characters however there is a bit of story carried over from book to book involving the Hamilton family to tie them together.
Melody Duncastle is perfectly happy running her small town bakery and has no urge to expand so when a developer hits town with big ideas Melody wants nothing to do with them. However, when Thomas Griffin Gallagher walks into Cups & Cakes Melody finds herself fighting an attraction to his charming looks and sexy accent. Attraction or not though these two definitely do not see eye to eye on their visions for their small town.
Having read all three of these novellas in the Hamilton series so far I couldn't help but notice the differences in characters and plot. Each set up between the couples is completely different with this one being more of an opposite attracts vibe with the couple disagreeing. Obviously being short books the romance happens quickly but as with the others I liked both characters and wished them the best. Great series to pick up right before the holidays for a quick dose of romance.
I received an advance copy from the publisher via NetGalley.
Find this book online: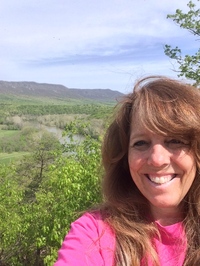 About the author:
Donna Kauffman is the USA Today and Wall Street Journal bestselling author of over 70 novels, translated and sold in more than 26 countries around the world. The recipient of multiple RT Book Awards, she is also a National Readers Choice Award and PRISM Award winner and a RITA finalist. Born into the maelstrom of Washington, D.C., politics, she now lives in the Blue Ridge Mountains of Virginia, where she is surrounded by a completely different kind of wildlife. A contributing blogger for USAToday.com, she is also a DIYer, a baker, a gardener and a volunteer transporter for the Wildlife Center of Virginia and Rockfish Sanctuary. Please visit her online at http://www.DonnaKauffman.com.