Title: The Fade
Author:  Demitria Lunetta
Publisher: Delacorte Press
Publication Date: December 11, 2018
Page Count: 288
My rating: 4 stars
About the book:
The Others meets The Cellar in this scary ghost-story thriller from the author of BAD BLOOD.
We don't want to disappear.
We want to be found.
Something terrible happened in her basement. Haley can feel it.
Four girls went missing several years ago, and the police never solved the case. But Haley knows the missing girls were murdered. How else can she explain the hostile presence in her house?
The ghostly girls need something from her. And unless Haley can figure out what they want . . . she might be next.
The Fade by Demitria Lunetta is a young adult mystery mixed with paranormal fantasy. The main character in the story is only fifteen and may even feel a tad younger so this one is a good creepy ghost story that fits the younger crowd although there is some violence.
Haley and her family have moved into a new home in a new town leaving behind their lives in Chicago. While exploring the home Haley and her sister find things left behind from the previous owners and shortly after strange things begin happening in the home.
As Haley gets out and meets a few of the kids in her new town she begins hearing the stories of what happened there before they moved in. Four of the local girls in the area had disappeared without a trace with there still being no answers to finding any of them and it's then that Haley realizes she is sharing her home with their ghosts.
I personally thought The Fade was a wonderfully creepy tale and perfect to read this time of year. As I mentioned it does have a younger feel to it then a lot of young adult but a bit too graphic really for middle grade. The story had plenty of twists to it but probably could have been a bit longer as the end felt a tad rushed but overall I enjoyed this one and would recommend checking it out.
I received an advance copy from the publisher via NetGalley.
Find this book online: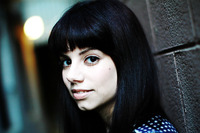 About the author:
DEMITRIA LUNETTA is the author of Bad Blood, In the After, and In the End. Like Haley, she loves Chicago and deep-dish pizza. Unlike Haley, she also loves Wisconsin and creepy old houses.
Visit demitrialunetta.blogspot.com and @demitrialunetta on Instagram and Twitter.