Title: Unleashed
Author: Donna Kauffman
Publisher: Zebra
Publication Date: September 25, 2018
Page Count: 116
My rating: 4 stars
About the book:
A raging winter storm and a holiday spent pet-sitting reveals there's more than one kind of animal in the house . . .
 
When Emma Lafferty is hired by a billionaire CEO to watch his pets over the holidays, she expects to enjoy a quiet Christmas in opulent surroundings. What she doesn't expect is to spend the week trapped in the mansion with Trevor Hamilton, the CEO's sexy great-nephew—and heir—whose motives are as shady as his desire is crystal clear . . .
 
Unleashed by Donna Kauffman is the first novella length contemporary romance in the Hamilton Christmas series. This story was originally published in the To All a Good Night anthology but is being republished as part of it's own Christmas collection. Each book in the series can be read as standalone stories with each featuring a different set of main characters.
Emma Lafferty found the corporate world to be a downer and decided to take a chance and do something she loved starting her own pet care business. When Emma is hired to pet-sit in a billionaire's mansion over the Christmas holiday she couldn't pass the opportunity by hoping for future business references.
When Emma arrives at the mansion she immediately takes care of the pets before she begins to explore the mansion. As Emma explores she runs into Trevor Hamilton, the CEO's sexy great-nephew. Trevor had been using his uncle's absence to search out family documents and never expected to fall for the sexy housesitter.
Obviously being novella length there isn't a lot of time for depth to this quickie romance read so expect some insta-love folks. However, for those that don't mind a fast paced moving relationship on occasion like myself the characters in the story are quite likable and along with some humorous moments along the way the story is really enjoyable. Looking forward to seeing what the next book in the series brings.
I received an advance copy from the publisher via NetGalley.
Find this book online: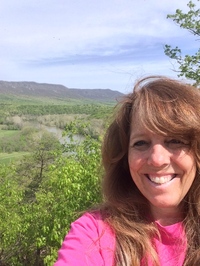 About the author:
Donna Kauffman is the USA Today and Wall Street Journal bestselling author of over 70 novels, translated and sold in more than 26 countries around the world. The recipient of multiple RT Book Awards, she is also a National Readers Choice Award and PRISM Award winner and a RITA finalist. Born into the maelstrom of Washington, D.C., politics, she now lives in the Blue Ridge Mountains of Virginia, where she is surrounded by a completely different kind of wildlife. A contributing blogger for USAToday.com, she is also a DIYer, a baker, a gardener and a volunteer transporter for the Wildlife Center of Virginia and Rockfish Sanctuary. Please visit her online at http://www.DonnaKauffman.com.