Title: Jealousy
Author: Nancy Bush
Publisher: Zebra
Publication Date: August 28, 2018
Page Count: 480
My rating: 3 stars
About the book:
HATRED LEADS TO OBSESSION . . .
It's taken time for the plan to unfold, years spent waiting, watching, hating. . . . And after the first victim, the killing gets easier and easier . . .
OBSESSION LEADS TO JEALOUSY . . .

The Crissmans, owners of Crissman & Wolfe department store, were once one of Portland's most powerful families. There's still enough fortune left to sow mistrust between Lucy, her bohemian sister Layla, their brother Lyle, and his grasping wife Kate. When a charity event at the Crissman Lodge ends in a fatal poisoning, Lucy becomes a prime suspect. But the truth is even more twisted, and Lucy can't be sure which of her family is being targeted . . . or who to fear.
AND JEALOUSY LEADS TO MURDER . . .

Renowned defense attorney Dallas Denton has been hired to clear Lucy's name, unaware of the secret that ties them together or of the deep cracks in the Crissman legacy. Someone is ready to eliminate every obstacle to get what they most covet, and prove that envy runs deeper
than blood . . .
Jealousy by Nancy Bush was not really what I was expecting when I picked it up and I'm a bit hesitant to call this one a mystery. I'd actually been expecting more towards the romantic suspense but really I think family drama more applies than anything with a bit of romance and mystery to the story.
The book is centered around the Crissmans, a family who were once one of the most rich and powerful in Portland and owners of Crissman & Wolfe department store. At the beginning readers are given a glimpse of a murder that will come much later in the story in the prologue then taken back to way before the event happened to introduce the family.
Lucy, Layla and Lyle are the three Crissman siblings that are the heart of the story with their ups and downs when it comes to those around them and the family fortune. Then as readers catch up to the prologue one even becomes a murder suspect when someone is poisoned.
Ok, I'm probably going to date myself again right now but anyone remember Dallas and the Ewings? The Carringtons from Dynasty maybe? Well, now we have the Crissmans and what this book felt like to me was one big family drama along the lines of the old prime time soaps. Sure we have the element of a mystery but there was also the old who shot J.R. so see, same idea. When finished with this one I kind of liked the good old fashion dysfunctional family idea but I did think it dragged a bit here and there but overall it was an OK read.
I received an advance copy from the publisher via NetGalley.
Find this book online: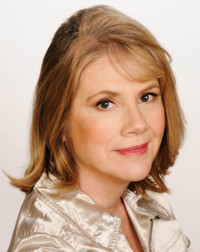 About the author:
NANCY BUSH is the New York Times and USA Today bestselling author of Dangerous Behavior, The Killing Game, You Don't Know Me, Nowhere Safe, Nowhere to Hide, Nowhere to Run, Hush, Blind Spot, Unseen, Wicked Ways, Something Wicked, Wicked Game, and Wicked Lies, in the Colony series co-written with her sister, bestselling author Lisa Jackson. She is also the co-author of Sinisterand Ominous, written with Lisa Jackson and New York Times bestselling author Rosalind Noonan. Nancy lives with her family in the Pacific Northwest. Readers can visit her website at http://www.nancybush.net.