Title: California Summer
Author:  Anita Hughes
Publisher: St. Martin's Griffin
Publication Date: June 19, 2018
Page Count: 304
My rating: 2 stars
About the book:
Anita Hughes's California Summer is a charming and beautiful love story about a former Hollywood producer who trades her cast list in for cookbooks in the hopes of following her dreams and finding new love.
Ben and Rosie are Hollywood's newest director/producer dream team. After hitting it big at Sundance, it seems that their ten years of love and hard work are finally paying off. Rosie is happy making independent films, but Ben wants the A-List celebrity package: a house in Beverly Hills, fancy cars in the driveway, and his name on the biggest blockbusters. He's willing to do anything, even sleep with the most famous producer in town, to get them.
Rosie is devastated by Ben's affair, and she decides to take a break from show business. She accepts her best friend's invitation to spend the summer at her parents' estate in Montecito. It's far away from L.A., the perfect place to start over.
In Montecito, Rosie meets a colorful cast of characters including Rachel, who owns a chocolate shop, and Josh, a handsome local who splits his time between surfing and classic cars. Suddenly Rosie has new friends and a new purpose. She starts a business in the village, and her luck seems to be turning around. But Rosie knows all too well that success comes with a price, and the price might be losing love…again.
California Summer is a touching and romantic story about following your dreams but not letting them get in the way of love.
Anita Hughes seems to be an author that can be a bit hit or miss for me. I have read several of her books and loved a couple, thought some were just OK and now with California Summer I really didn't care for the relationship in here much at all.
In this story Rosie finds that her long time partner Ben has cheated on her so she packs up and moves to Montecito to the luxurious home of a friend's family to stay in the guest house. At this point I'm cheering wildly you go girl, leave the jerk.
However, one Rosie is away she does nothing really but obsess and fantasize over the ex and getting back together even though all signs point to him moving forward with someone else. Frustration with Rosie begins to set in.
Cue another handsome man entering Rosie's life that she sort of notices but still hooked on the ex until the ex does the unthinkable after which Rosie runs to new man. Really? Rebound anyone? This was not a good start for me to root on forgetting that Rosie was teetering on unlikable already. But things did not get better in my mind with more and more angst.
So needless to say this was not a favorite Anita Hughes novel for me at all and I'll avoid being any more specific to the events after that rough start. I will however say that the one thing I will always praise her for in her books was still here in spades and that is her beautiful settings and bringing these places to life. I really do feel as if I am right there with the characters in every book I've read so I will continue to be a fan if for nothing else than the lovely virtual traveling within the pages.
I received an advance copy from the publisher via NetGalley.
Find this book online: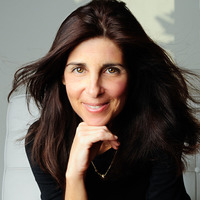 About the author:
Anita Hughes was born in Sydney, Australia. At the age of eight, she won first prize in a nationwide writing contest sponsored by THE AUSTRALIAN, Australia's most prestigious newspaper. She graduated from Bard College with a B.A. in English Literature and a minor in Creative Writing, and attended UC Berkeley's Masters in Creative Writing Program. She lives at The St. Regis Monarch Beach, where she is at work on her next novel. For more information please go to http://www.anitahughesbooks.com.