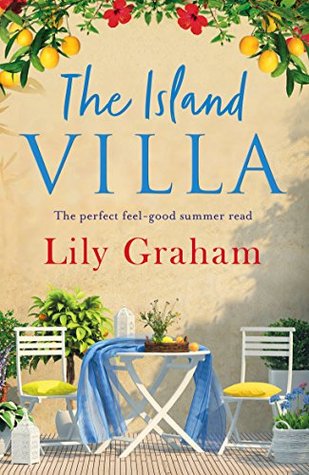 Title: The Island Villa
Author: Lily Graham
Publisher: Bookouture
Publication Date: June 29, 2018
Page Count: 279
My rating:   4 stars
About the book:
A story of two sisters, living in a time of fear and betrayal, and rumours of a stranger on the island. If you loved The Nightingale by Kristin Hannah or The Island by Victoria Hislop, you'll devour this dramatic book-club read set in a beautiful Spanish villa where the walls whisper with secrets.
When Charlotte's husband James tragically dies, he leaves her an unexpected gift – her grandmother's beautiful villa, Marisal, on the Spanish island of Formentera.
As she begins to explore her new home, and heal her broken heart in the warm golden sunshine, Charlotte discovers that her grandmother Alba has been keeping secrets about her life on the island. Intrigued by her family's hidden history, Charlotte uncovers a devastating love affair that put many lives at risk and two sisters torn apart by loss.
Can the heartbreaking truth of the island's dark history finally be laid to rest? Or will the secrets of the past shake the new life and love that Charlotte is close to finding?
The Island Villa by Lily Graham is a bit of a contemporary story mixed with a historical read. The book begins with Charlotte in the present time but as she is learning of her ancestry the chapters switch to what happened hundreds of years ago on the island.
Charlotte had just lost her husband, James, to cancer and is in the process of trying to figure out how to go on in life without him. With her daughter busy with college Charlotte finds herself struggling just to get up each day but that's when her husband surprises her even in death.
James had known just how important is was to Charlotte to trace down her family roots so before he passed he had purchased her grandmother's villa on the island of Formentera. But not only had James found the property he also had found that she still had family left on the island and when Charlotte makes contact she begins to learn of her roots and a past she had never known existed.
With a wonderful small town vibe on this tiny island the setting in this story won me over immediately. Then to mix the elements in this story giving it many layers to uncover while reading I found myself quite engaged with this one. Adding in the mystery of the past with overcoming grief and finding new beginnings made for a beautiful read with lovely characters making for a lovely summer read.
I received an advance copy from the publisher via NetGalley.
Find this book online: 
About the author:
Lily grew up in dusty Johannesburg, which gave her a longing for the sea that has never quite gone away; so much so that sometimes she'll find sand grouting the teaspoons, and an ocean in a teacup. She lives now in the English countryside with her husband and her sweet, slobbering bulldog, Fudge, and brings her love for the sea and country-living to her fiction.
Her first two novels were Amazon bestsellers, and have since been re-published by Bookouture, with The Summer Escape (previously published as An Invincible Summer) and A Cornish Christmas (previously published as The Postcard) out now. She is currently working on her third novel.
**NOTE: She is NOT the author of The Phone Rang, that is a different author with the same name.