Title: Death by the Sea
Author: Kathleen Bridge
Publisher: Lyrical Underground
Publication Date: April 3, 2018
Page Count: 260
My rating:   3 stars
About the book:
National bestselling author Kathleen Bridge presents a delightful new series set on a barrier island where waves meet sand—and mayhem meets murder . . .
The Indialantic by the Sea hotel has a hundred-year-old history on beautiful Melbourne Beach, Florida, and more than a few guests seem to have been there from the start. When Liz Holt returns home after an intense decade in New York, she's happy to be surrounded by the eccentric clientele and loving relatives that populate her family-run inn, and doubly pleased to see the business is staying afloat thanks to its vibrant shopping emporium and a few very wealthy patrons.
But that patronage decreases by one when a filthy rich guest is discovered dead in her oceanfront suite. Maybe this is simply a jewel theft gone wrong, but maybe someone—or many people—wanted the hotel's prosperous guest dead. Only one thing is sure: there's a killer at the Indialantic, and if Liz lets herself be distracted—by her troubled past or the tempting man who seems eager to dredge it back up—the next reservation she'll book could be at the cemetery . . .
Death by the Sea by Kathleen Bridge is the first book in the cozy A By the Sea Mystery series. The main character Liz Holt has returned home to beautiful Melbourne Beach, Florida and her family run Indialantic by the Sea hotel.
Liz has been happy jumping back in at the hotel and helping her Aunt Amelia who was an actress at one point and still has her quirks. Liz even likes her aunt's feisty parrot, Barnacle Bob. But as the hotel takes on a wealthy couple the wife does everything to test the nerves of Liz and her aunt.
However, as much as they debated on asking their guests to leave and take their demands with them they never wished to find the lady murdered. Now the list of suspects is growing by the minute so Liz decides to do her own little bit of investigating.
Now anyone that knows me knows I love a good little cozy mystery with their quirkiness and eccentric characters. Death by the Sea had the quirky edge that I enjoy and even added in Barnacle Bob the parrot who was a laugh a minute however when finished with this one I debated between a two and three star rating as unfortunately I didn't fall in love with this opener in the series. After much debate I'm giving this one three stars and what saved it was the setting, Melbourne is somewhere I've vacationed quite a few times and enjoyed the virtual trip back there and then there was the few details here and there that I'm normally a fan.
What stopped me loving this one was it was just so darn wordy throughout. There are tons of characters involved and as each joins I felt like an info dump was going on. And then the mystery didn't even get going until pretty late in the book and by then I was getting more than impatient waiting. Even with the info dump feeling to a lot of things though there was a backstory with the main character that kept being brought into the story that almost felt as if I had missed something somewhere like this was a spin off or continuation. I'm all for character development and plenty of suspects but this one just seemed to go a little too far in some areas and not enough in others to where the story just dragged too much for me so I'm not sure I would continue onward in the series.
I received an advance copy from the publisher via NetGalley.
Find this book online: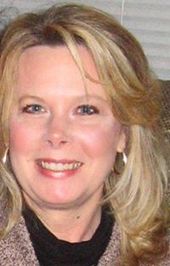 About the author:
Kathleen Bridge started her writing career at the Michigan State News in East Lansing, Michigan. She is the author of the National Bestselling Hamptons Home and Garden Mysteries: Better Homes and Corpses, Hearse and Gardens, and Ghostal Living. She is also the author of Death By the Sea – A By the Sea Mystery. Kathleen is a member of Mystery Writers of America and Sisters in Crime and lives on a barrier island with her husband, multipoo Lucy, and Tuxedo cat Sophie. Kathleen Bridge on FB and Weekend By the Sea page on FB authorkathleenbridge on Instagram