The Bengal Identity (A Cat Groomer Mystery #2) by Eileen Watkins @KensingtonBooks #bookreview #mystery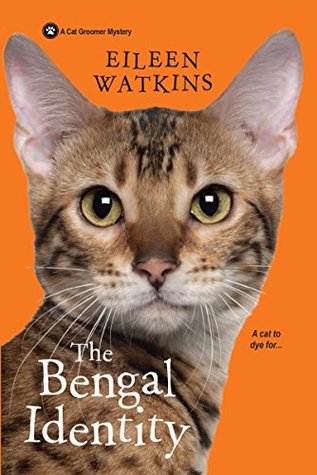 Title: The Bengal Identity
Author: Eileen Watkins
Publisher: Kensington
Publication Date: March 27, 2018
Page Count: 257
My rating:   4 stars
About the book:
Everyone knows a leopard can't change its spots. But can a thief hide the spots on a catnapped Bengal? Groomer Cassie McGlone is about to find out . . .
With no ID for his pet, an agitated young man shows up at Cassie's Comfy Cats claiming his house has burned down and he needs to board his big, brown cat, Ayesha. But after a bath washes dye out of the cat's coat and reveals beautiful spots, Cassie suspects the exotic-looking feline may in fact be a valuable Bengal show cat, possibly stolen. At the same time, there are rumored sightings of a "wild cat" in the hills of Chadwick, New Jersey. Could there be a connection?
When Ayesha's alleged owner turns up dead, it looks like whoever wants the beautiful Bengal is not pussyfooting around. Working with the police, Cassie and her staff need to be careful not to reveal the purloined purebred's whereabouts while they discreetly make inquiries to cat breeders to find her real owners.  But after a break-in attempt rattles Cassie's cage, it's clear someone let the cat out of the bag. And when a second body is found, it's up to Cassie to spot the killer, who may be grooming her to be the next victim . . .
The Bengal Identity by Eileen Watkins is the second book in the cozy A Cat Groomer Mystery series. In the first readers were introduced to Cassie McGlone  who had moved to the picturesque town of Chadwick to give herself a fresh start after leaving a horrible relationship. Opening her own shop, Cassie's Comfy Cats, a cat grooming and boarding specialty boutique, she'd started to make a name for herself around the town and gather a list of clients.
Now we rejoin Cassie in her shop when a man walks in desperate to find a place to board his cat claiming his home had burned down. Cassie is a bit reluctant with no papers to assure proper medical care or the animal being spayed but agrees to keep her separate from her other boarders. But after the man leaves Cassie finds as she grooms Ayesha that the cat seems to have been dyed and thinks she is possibly a stolen show cat.
Before Cassie can get any answers on her new boarder's owner however she finds on the news that a man has been killed in a hit and run. The victim is none other than the one that dropped off Ayesha so now Cassie finds herself yet again working with her friend in the police department to solve yet another murder in their small town.
Being the second book in the Cat Groomer series I already knew that I had enjoyed the first installment and anticipated this one to be a fun read as well and thankfully I was not disappointed at all. With a strong female lead and some interesting critters along with a slowly developing romance the series has a nice mix of elements to enjoy.
I would say with this addition to the series I was a tad surprised there weren't quite as many suspects as I would expect but that wasn't necessarily a bad thing as the author instead fills the story with several things going on in the small town. A part of the mystery here was with all these events occurring was where exactly would the story head to and would everything be connected in the end. With a great wrap up to everything I am definitely still a fan of the series and will look forward to the next installment.
I received an advance copy from the publisher via NetGalley.
Find this book online: 
About the author:
Eileen Watkins is also the author of The Persian Always Meows Twice. For most of her career, she has worked for daily newspapers, writing and editing stories on fine art, architecture, interior design, and home improvement. She has also published paranormal mystery and suspense novels. A confirmed "Jersey Girl," she prefers older houses, has always shared her home with at least one cat, and makes frequent visits to the nearest riding stable. She is a member of Sisters in Crime and Mystery Writers of America. Visit her website at http://www.efwatkins.com.