Title: The Vampire Rules
Author: Michelle Madow
Publisher: CreateSpace Independent Publishing Platform
Publication Date: January 8, 2018
Page Count: 116
My rating:  4 stars
About the book:
Before he was a vampire prince, he was just Jacen.
As one of the most promising athletes in the country, Jacen has his life all mapped out for himself. Train hard, win worldwide swimming championships, and go for the gold in the next Olympics.
But while celebrating a successful swim meet at his hotel bar, he meets a mysterious woman named Laila. Not only is Laila beautiful, but she's smart, witty, and charming. So when she brazenly invites herself up to his room, he jumps at the opportunity to spend the night with her.
He gets far more than he bargained for when she bites his neck and abducts him to the hidden vampire kingdom of the Vale, changing his life forever.
If he can even call it a life anymore…
The Vampire Rules by Michelle Madow is a prequel novella to the Dark World: The Vampire Wish series. The series is a young adult paranormal fantasy that features vampires, witches, and werewolves.
During the full series readers met Jacen who had been turned into a vampire prince against his will. After being turned Jacen had gone on a blood lust rampage killing many humans and had hated what he had become. Readers learned a bit about him but this novella goes back and gives his full story.
As always this addition to the series was a fact paced and fun glimpse into the world in which Michelle Madow created in the Dark World series. The story let's readers know exactly what had happened to Jacen with many more details than were learned from the series. The deeper look into the events that led him to where he was in the full series made his actions understandable.
Having read the full series previously I already knew I would enjoy this extra read and I'd still recommend checking out the entire set of books. There is also a spin off series coming soon that I'm excited to read that will surely add more into the already exciting world.
I received a copy of this book from the author.
Find this book online: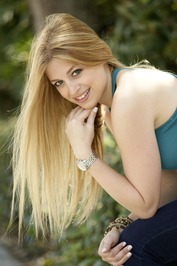 About the author: 
Michelle Madow is a USA Today bestselling author of fast paced fantasy novels that will leave you turning the pages wanting more!
She grew up in Maryland and now lives in Florida. Some of her favorite things are: reading, traveling, pizza, time travel, Broadway musicals, and spending time with friends and family. Someday, she hopes to travel the world for a year on a cruise ship.
Visit her website, www.michellemadow.com, to get books of Michelle's for FREE!