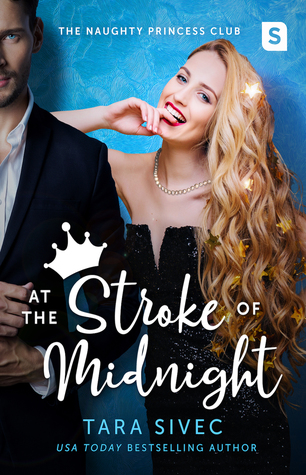 Title: At the Stroke of Midnight
Author: Tara Sivec
Publisher: Swerve
Publication Date: February 27, 2018
Page Count: 261
My rating:  5 stars
About the book:
Meet the Naughty Princess Club: a brand new series from USA Today bestselling author Tara Sivec that introduces readers to Fairytale Lane and the hilarity—and romance—that ensue when three women start a new business to make it rain.
Once upon a time Cynthia was the perfect housewife. Between being the President of the PTA and keeping her home spotless without a hair (or her pearls) out of place, her life was a dream come true. Her husband was once her knight in shining armor, but now he's run off with all their money…and the babysitter.
Dressed as a princess at the annual Halloween block party on Fairytale Lane, she meets two other "princesses" also facing money troubles: antique store owner Ariel and librarian Isabelle. When the women are invited to wear their costumes to a party where they're mistaken for strippers, Cindy, Ariel, and Belle realize that a career change could be the best way to make their money problems go bippity-boppity-boo.
But can structured Cindy approach a stripper pole without sanitizing wipes? And could the blue-eyed anti-prince that has been crossing her path become Cindy's happily ever after? At the Stroke of Midnight is a hilarious, empowering story where princesses can save themselves while slaying in stilettos.
At the Stroke of Midnight by Tara Sivec is the first book in the new contemporary romance Naughty Princess Club series. As one might guess from the description this series is a bit of a naughty modernized retelling of Cinderella. There's only a hint of the fairy tale such as names involved so nothing will turn into a pumpkin but for someone such as myself that loves to remember those characters it was a lovely added touch to pull me into the book.
This first installment of the series introduces Cynthia who was the perfect housewife and mother, prim and proper always volunteering for everything, that is until Cynthia's world was shattered when her husband left with all their money to run off with the babysitter. Now Cindy is at a loss as to how the bills are going to get paid and dealing with her rebellious teen.
At the annual Halloween block party on Fairytale Lane Cindy meets two other ladies from the neighborhood, Ariel and Isabelle, who have also come as princesses and also have their own money troubles. The three ladies get invited to work a party in their costumes and mistakenly thinking it's a children's "princess" party they can't say no to the quick cash but little did they know they would be expected to strip.
As horrified as the new friends are having to run out of the wild party this gives Cindy an idea on how they can all fix their money issues. As the girls test out their new business they meet P.J. Charming who immediately catches Cindy's eye but all she needs is another man in her life.
From the opening pages I knew I was going to absolutely love this book when I started chuckling right away. A perfect mix of humor with a touch of a classic fairy tale it was right up my alley and I happily became engrossed in the story of these "princesses". There were so many funny moments as this group of ladies bonded and became friends and then so many sexy moments as Cindy meets her Prince Charming all the while cloroxing the stripper poles to overcome her troubles.
This cute little romance was so much more than I initially thought it was going to be. It was nice to see a strong female lead that really stepped out of her protected bubble she had been in showing a nice bit of female empowerment as she changed right before my eyes while reading. I will definitely be looking forward to reading on in this series and learning of the other ladies since they were all so different but so much fun when they came together in this first book.
I received an advance copy from the publisher via NetGalley.
Find this book online: 
About the author:
Tara Sivec is a USA Today best-selling author, wife, mother, chauffeur, maid, short-order cook, baby-sitter, and sarcasm expert. She lives in Ohio with her husband and two children and looks forward to the day when all three of them become adults and move out.
After working in the brokerage business for fourteen years, Tara decided to pick up a pen and write instead of shoving it in her eye out of boredom. She writes in a wide range of genres including Romantic Comedy, Romantic Comedy/Mystery, Romantic Suspense, New Adult Drama, Contemporary Romance and Psychological Thriller. Her novel Seduction and Snacks won first place in the Indie Romance Convention Reader's Choice Awards 2013 for Best Indie First Book and she was voted Best Indie Author in the Indie Romance Convention Reader's Choice Awards 2014.
In her spare time, Tara loves to dream about all of the baking she'll do and naps she'll take when she ever gets spare time.